Birds of Prey / Czech Republic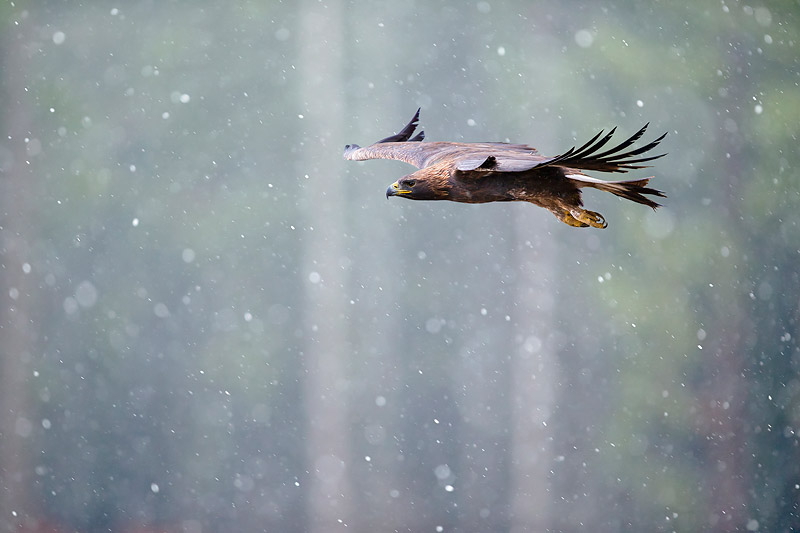 For the best ever birds of prey photography workshop, join us in the Czech Republic where we will spend two days photographing a wide range of raptors, including golden eagle, sea eagle, peregrine falcon and a variety of owls, both in-flight and posed in stunning, natural settings. Nowhere else can we replicate the diversity of opportunities this location provides. The course culminates in a unique opportunity to photograph at eye level eagles gliding above a natural pond.
Eagles of Hortobagy / Hungary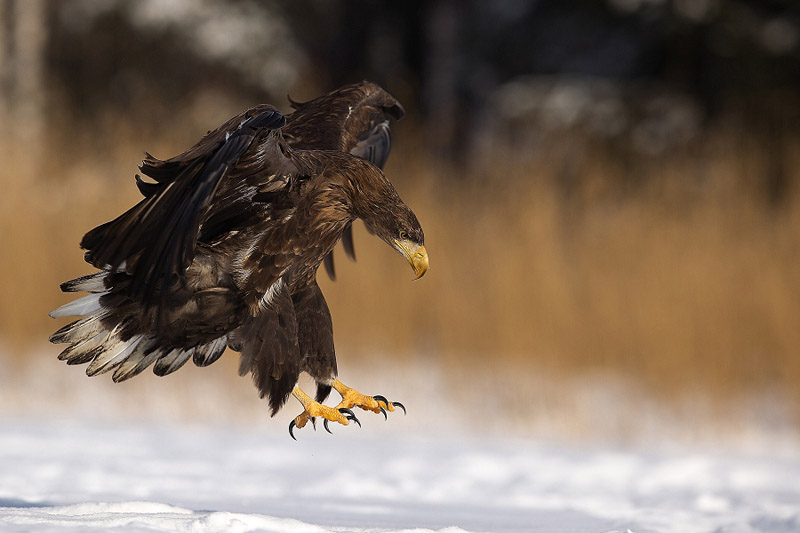 Join Tatra Photography in the legendary Hortobágy National Park photographing the iconic White Tailed Sea Eagle. In this region up to 200 White-tailed Eagles are wintering which regularly visit the specially designed photography hides. We will spend three full days in the bird photography hides with our main focus on the the White-tailed Eagle, Common Buzzard & Rough-legged Buzzard, other species of bird you will also have the opportunity to photograph are Goshawk, Great White Egret, Spotted Woodpecker, Hawfinch, Great Spotted Woodpecker, Hooded Crow, Rook, Magpie, Nuthatch, Great Tit, Blue Tit, Marsh Tit, Jay, Sparrowhawk & Hen Harrier.
Over the course of four days you will enjoy unique opportunities to capture spectacular images of Raptors, Owls and numerous more species in one of Europe's top wildlife national parks.  Guidance and tuition on how to get the best from each situation will be available throughout the workshop from our professional photographer Ben Hall so we'll ensure you return home with images you'll be proud of.
Galapagos / Ecuador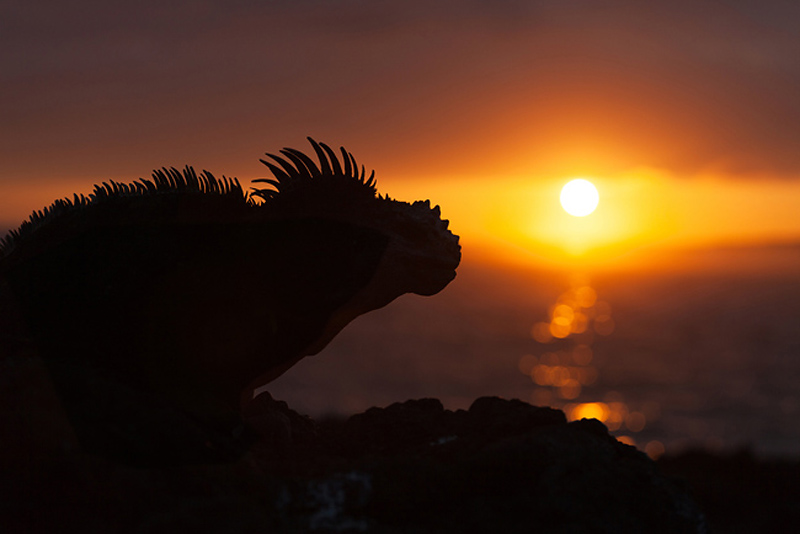 Tatra Photography is inviting you to join them on a photography tour you will never forget. Our planet is home to some extraordinary places, but none can quite compare to the Galapagos Islands. Located in the eastern Pacific Ocean, just off the west coast of South America, The Galapagos Islands are made-up of 18 volcanic islands and over 100 islets. The scenery is beautiful, characterized by volcanic peaks, lava fields, white sandy beaches and crystal clear waters. However, as stunning as it is, it's not the Island's scenery that is its main draw – instead, it is its extraordinary wildlife.
Due to their isolation, the wildlife on each of the remote islands evolved independently, adapting individually to their environment. The wildlife here is like nothing else on earth and inspired Darwin's theory of evolution during the voyage of the Beagle. During this Tatra Photography workshop, we too will be able to visit and explore the different Islands, witnessing and photographing the unique wildlife – for example, marine iguanas, flightless cormorants, tiny penguins, graceful tropicbirds and the giant tortoise. The wildlife residing here have little fear of humans, meaning often you can get within touching distance – resulting in unique opportunities for photography. It really isn't hard to understand why the Galapagos is on so many peoples 'bucket list' – visiting the Islands is quite literally the experience of a lifetime.
In the company of a local guide, we will explore the Galapagos' archipelago Islands and take photos of its amazing natural history at every opportunity. We will tour the Galapagos on our own luxury cruise ship and when not on the Islands, there will be time to relax, swim and snorkel. During the workshop, you will be in the capable hands of two of the UK's best professional natural history photographers – Ben Hall and Ross Hoddinott. Ben is best known for its extraordinary images of birds, while Ross is a close-up specialist. Between them, they offer participants a wide, varying range of skills and expertise – perfectly suited to the range of subjects we will be seeing and photographing during the tour. With two tutors on one course, each guest is guaranteed lots of one-to-one tuition in the field and advice on how to produce wow-factor wildlife shots. Its an opportunity too good to miss.
Orcas of Iceland / Iceland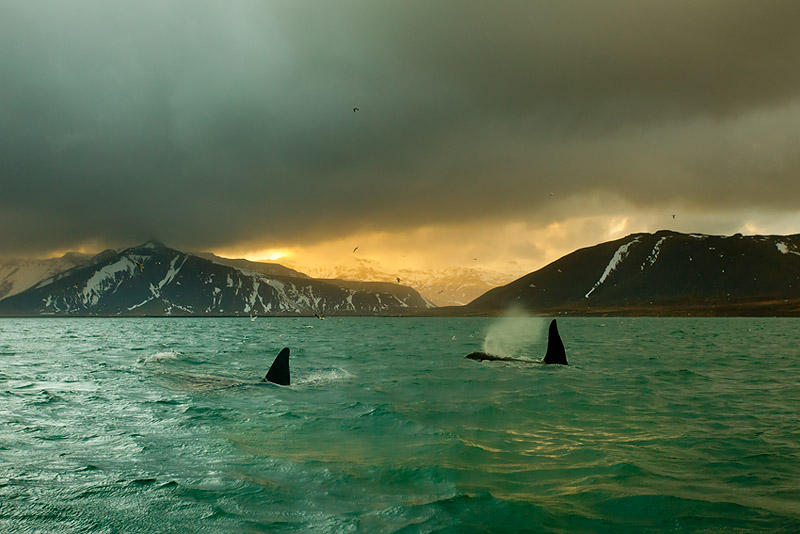 Iceland is not only famous for its wild and beautiful landscape, but also for its spectacular wildlife.
During this workshop we will be venturing out into the West of Iceland to photograph Orcas from a private boat. At this time of year the Killer whales head into the fjord feeding on millions of herring. We will have two days out on the private boat for opportunities to photograph these impressive creatures from close quarters – all within spectacular mountain landscape. You will also get the chance of photographing Gannets and Fulmars from the boat.
We will also be visiting several areas of coastline to capture images of birds that inhabit Iceland's dramatic sea cliffs. Images of soaring fulmars against a mountain backdrop and waterfalls as well as opportunities to photograph other bird species such as kittiwakes, Eider ducks, Great Northern Diver and Red Throated Diver.
Guidance and tuition on how to get the best from each situation will be available throughout the workshop from our professional photographer Ben Hall.
We've also made this adventure easy to enjoy with an inclusive package that includes your flights, transfers and accommodation. In all, five days of truly spectacular wildlife photography adventure.
Wild Brown Bears / Slovakia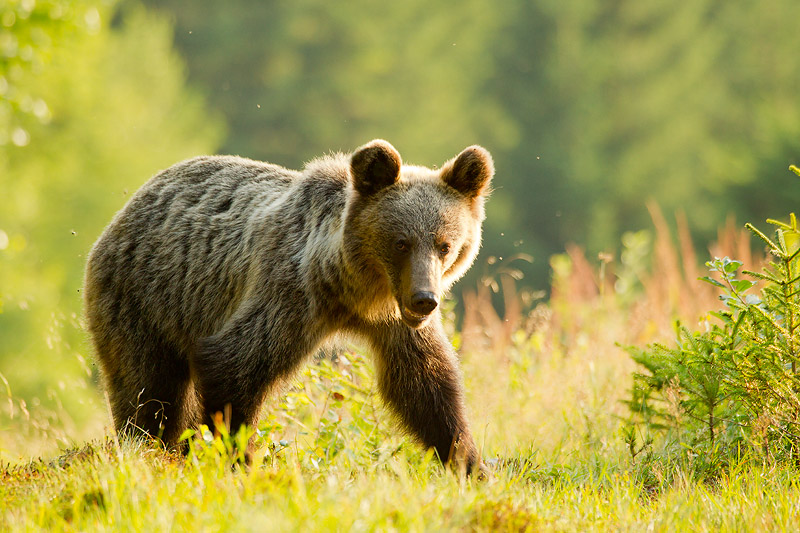 Wild Brown bears (Ursus arctos arctos) are the focus of our 5-day wildlife photography adventure from the comfort and safety of specially designed photography Brown Bear hides in the natural setting of the Carpathian mountains, Slovakia.
Tatra photography have exclusive use of 4 hides specially located in the national park to photograph Wild Brown Bears in their natural environment, each day we will spend a few hours in the early mornings and 5 hours for late evening session's in each hide. During the day we will catch up on some rest and our professional photography tutor will provide tutorial and feed back sessions.
With an inclusive package, which includes flight, transfers and accommodation, we've come up with a unique workshop that will ensure you capture once-in-a-lifetime images of some of Europe's most endangered and enigmatic species.
Over the course of five days in the field, we will enjoy numerous opportunities to capture spectacular images of Europe's top predator and endangered wildlife in natural forest settings. And, with the help of top wildlife pro, we'll ensure you return home with images you'll be proud of.
In all, five days of truly spectacular wildlife photography adventure.
For more details including dates, availability and costs, please visit www.tatraphotographyworkshop.com