BBC Countryfile Sunday 8th March 2015
I was filmed recently for BBC Countyfile. The piece is about the great crested grebe, a subject that I have photographed extensively over many years. We spent the day at Tatton Park in Cheshire, where I photograph the grebes from my floating hide and talk to presenter Ellie Harrison about my images. Unfortunately, the conditions were far from ideal on the day, though the grebes performed well and we saw plenty of head shaking and other courtship behaviour. Photographing from a floating hide allows me to get very low to the water, as well as keeping me completely concealed from view. Here's an early image that I shot at a local lake, which, hard as I try I have never been able to replicate!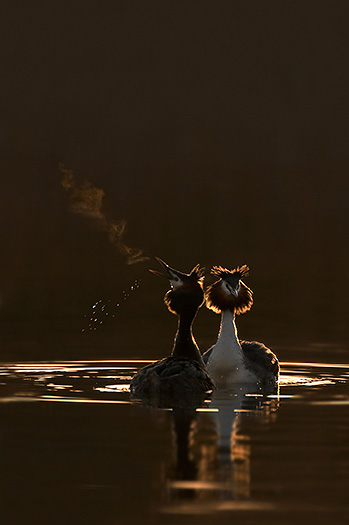 The Daily Telegraph
My recent image of a cormorant catching a perch was featured in the Daily Telegraph on Friday 16th November 2012.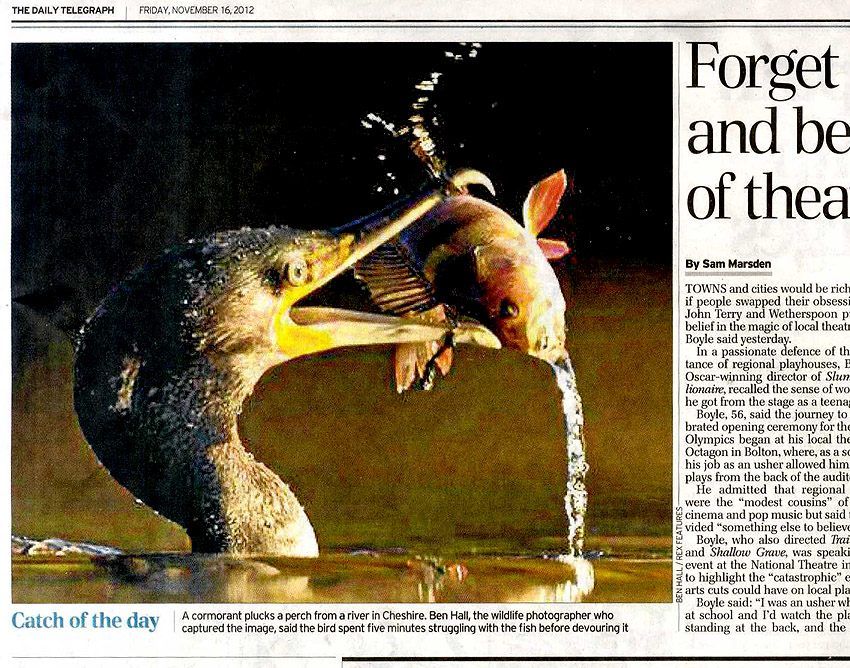 Wild Travel magazine – September 2012
I'm doing a series of technique based features for Wild Travel magazine. For each issue of the magazine I'll be covering a different aspect of wildlife photography, the first in the series is about composition and is on sale now.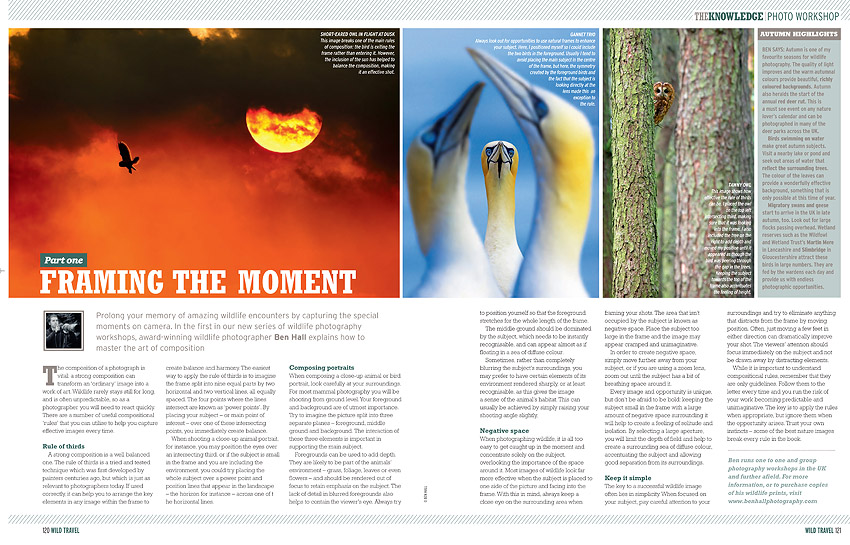 Photography Monthly magazine – March 2012
Ben was selected as one of the UK's top 5 wildlife photographers and features in this months Photography Monthly magazine. The article is written by Marcus Hawkins and is about what wildlife photographers get up to in hides!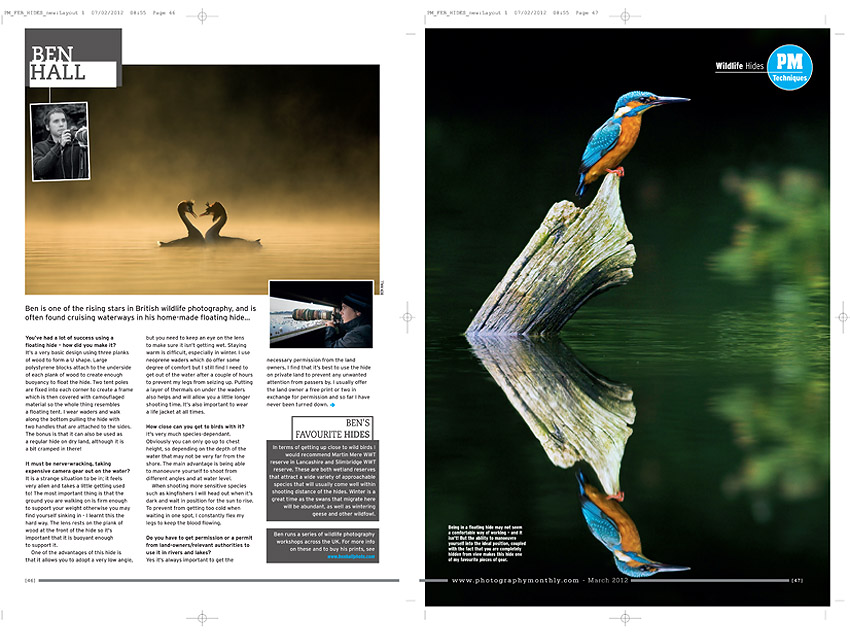 Photo Plus magazine – February 2012
Ben was the guest pro in the Apprentice feature of Photo Plus magazine (february 2012) where he gave tips and advice to a reader about photographing birds at Slimbridge WWT reserve.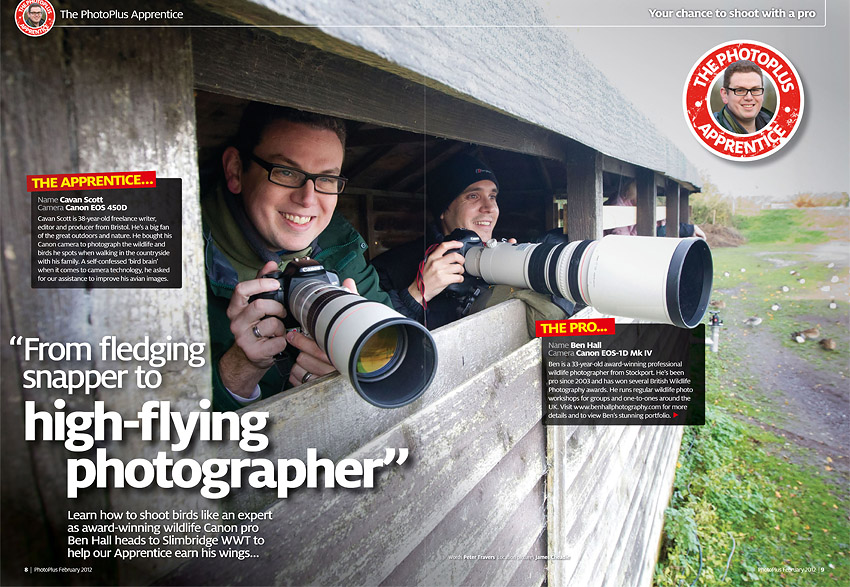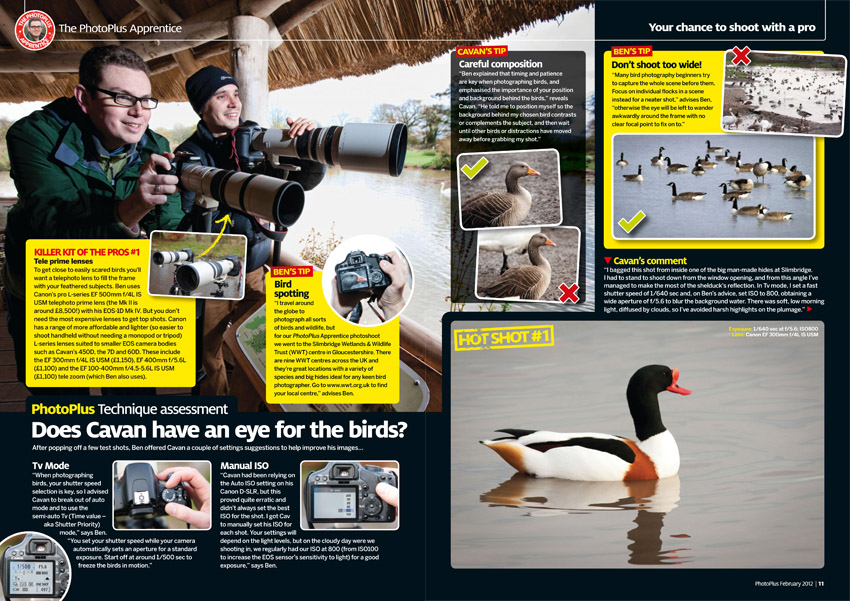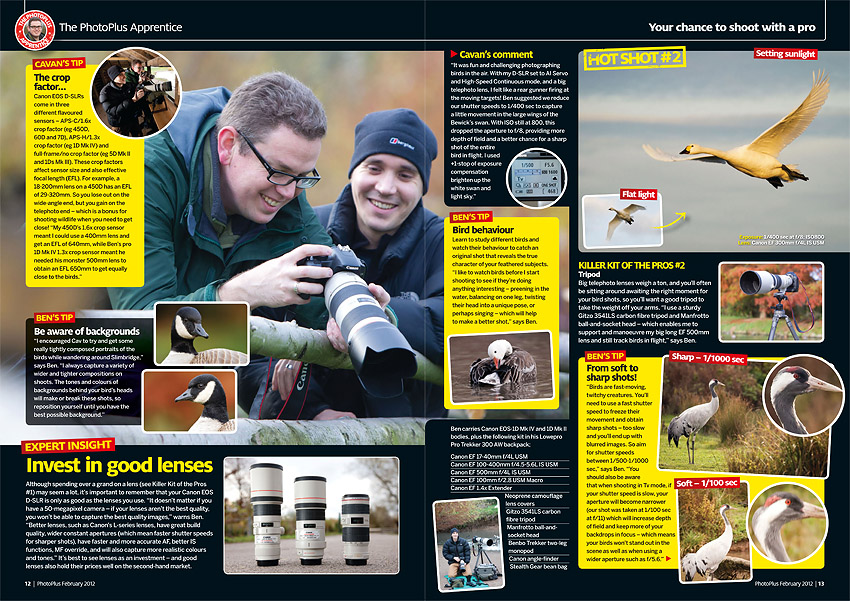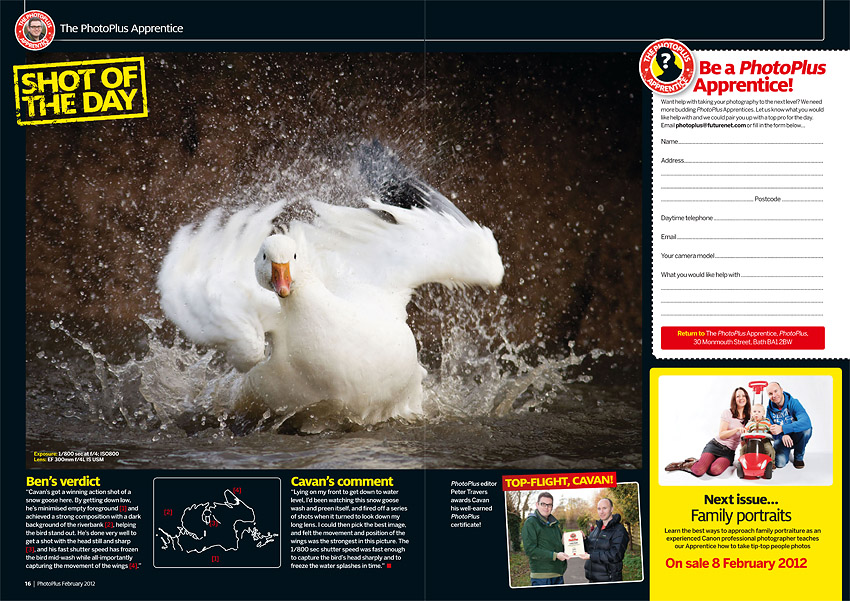 THIS IS AN EXTRACT FROM PHOTOPLUS MAGAZINE ISSUE 57 – ON SALE NOW. To read more great Canon D-SLR techniques and tips go to http://bit.ly/b8QSwR where you can buy individual issues of PhotoPlus, or subscribe and save money!
Higger Tor landscape in Daily Telegraph
Ben's landscape image of the sun setting from Higger Tor in the Peak District was published in The Daily Telegraph (Friday December 2nd).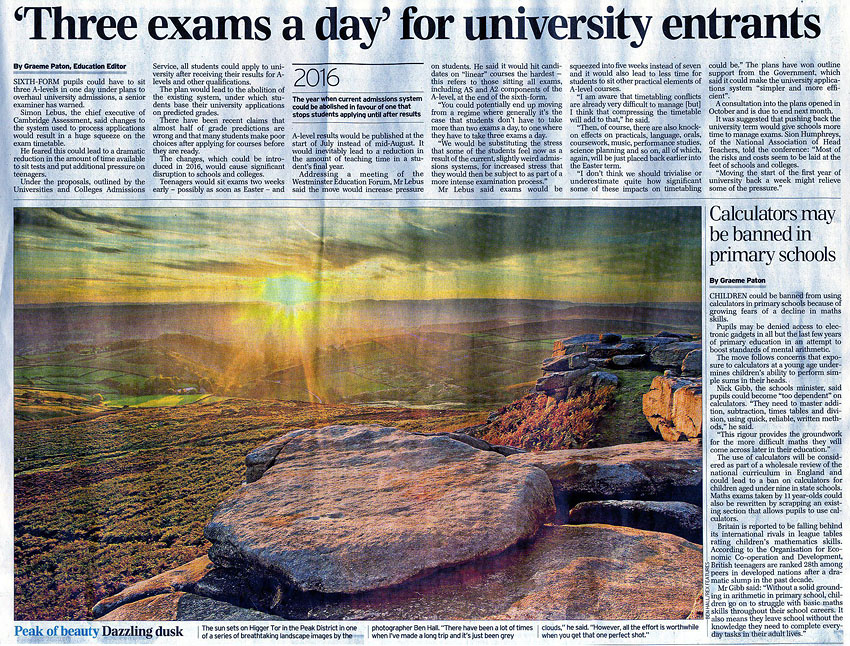 Photography Monthly – December 2011
Ben was interviewed by Photography Monthly magazine for the 'Turning Pro' section of the December issue  where he gave tips and advice on turning professional in the competitive field of wildlife photography.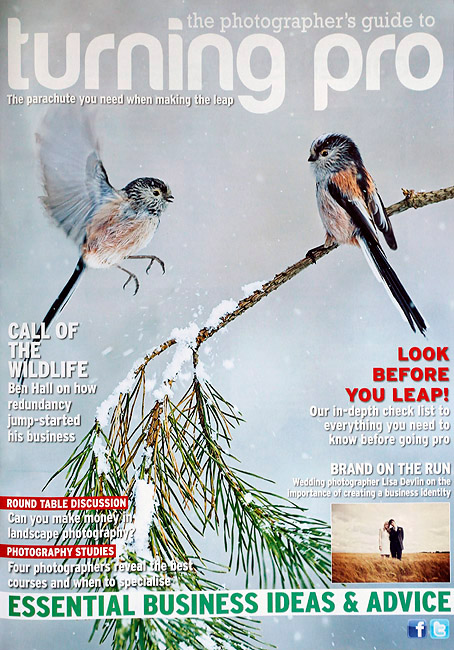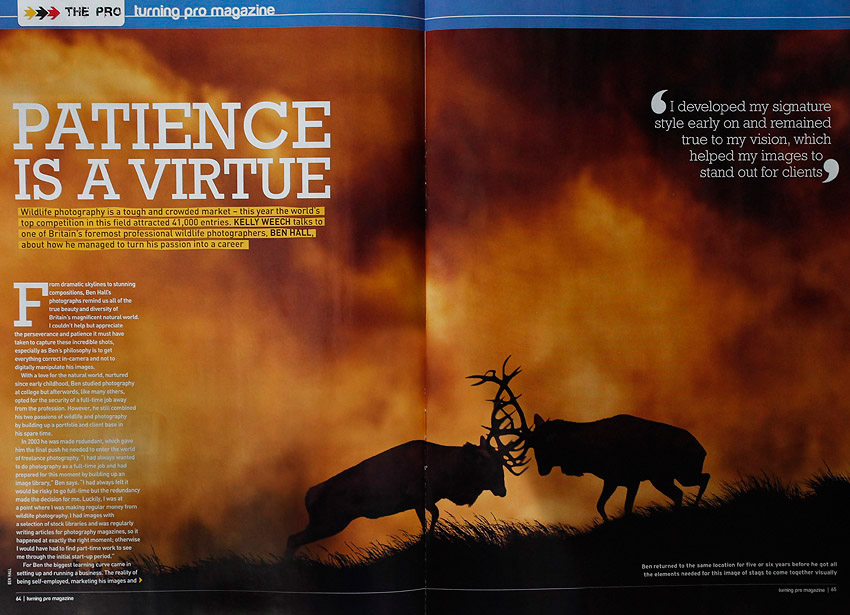 Birdwatch magazine – December 2011
Ben was interviewed and profiled in the December issue of Birdwatch magazine. A spread of his images are featured as well as a write up on his approach to wildlife photography.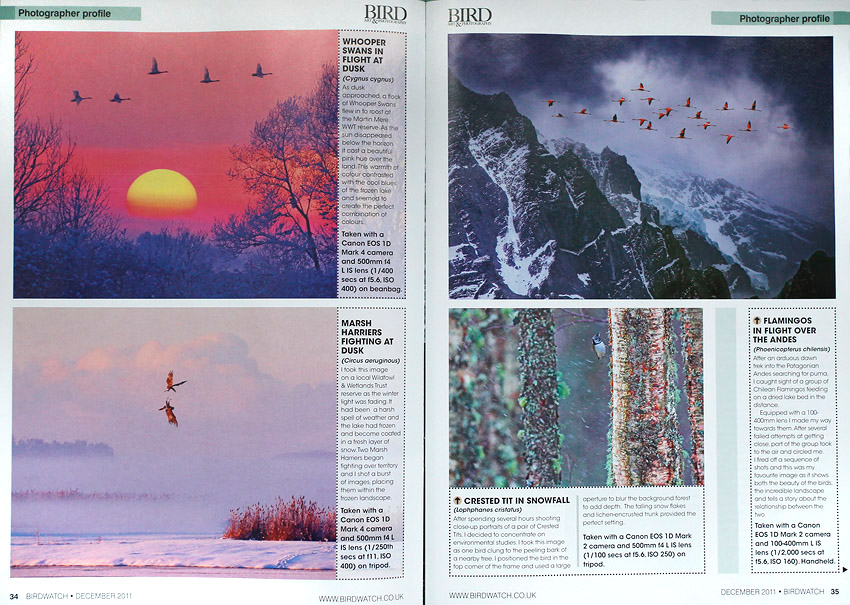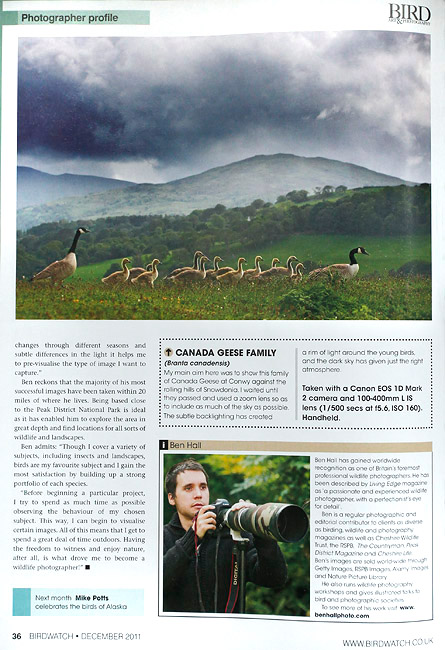 Photo Plus magazine (Issue 0054)
Ben's images were featured widely in Issue 54 of Photo Plus magazine. He also gives tips on various aspects of photographing Autumn wildlife.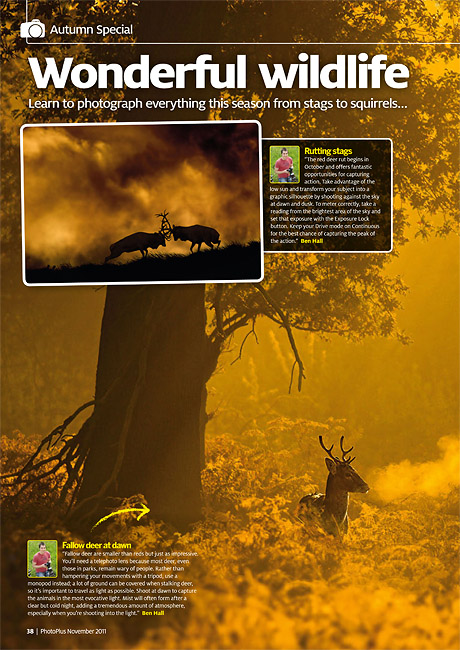 Outdoor SLR Skills bookazine
Ben's image of a red deer stag and hind silhouetted at dusk was used for the front cover of Outdoor Photography bookazine. Some of his images and tips were also featured inside.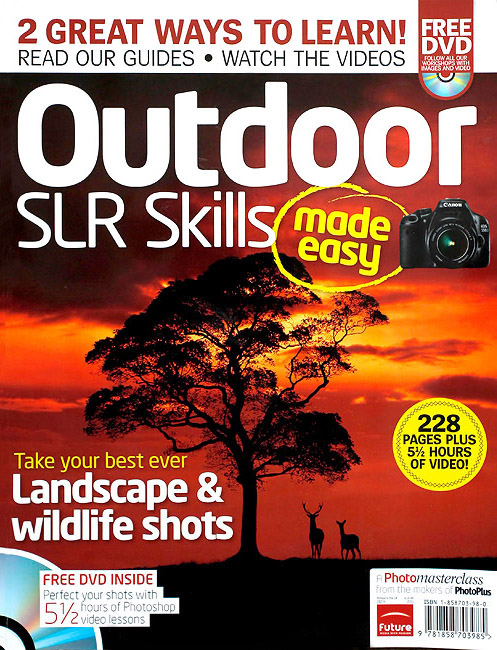 RSPB Birds magazine front cover
Another RSPB Birds front cover, this time for the Winter 2011 issue. The image is a pair of long-tailed tits in snowfall.
RSPB Birds magazine front cover
Ben's image of  gannet coming in to land was used on the front cover of the RSPB magazie, May 2011.