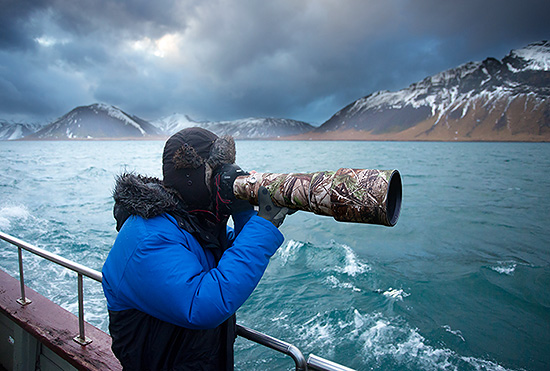 Connect with Ben on Facebook
 Biography
Ben Hall has gained worldwide recognition as one of Britain's foremost professional wildlife photographers. His images are often surprising, always striking and ever striving to awaken people to the diversity of the natural world. He is described by "Living Edge" magazine as 'a passionate and experienced wildlife photographer, with a perfectionist's eye for detail'.
With a life long passion for the natural world, Ben has used his skill in photography to capture many stunning images. He is driven by the need to protect and preserve Britain's last fragile ecosystems, as testified by his work with the RSPB and various Wildlife Trusts and other conservation organisations.
Ben's personal approach to wildlife photography lies in the creative art of 'seeing'. His aim is to use his pictures to communicate his personal vision, to generate an emotional response and to excite the viewer's aesthetic sensitivity. He often pre-visualises a particular image in his mind before setting out to photograph it. To realise this vision by turning it into a photographic image can take weeks or even months, and often sees him returning frequently to the same location to capture the perfect shot.
All of Ben's photographs are true representations of what he saw, nothing is added which is an important part of his philosophy. Ben's spectacular images have earned him numerous prestigious international awards and his one man exhibition in Manchester, extended by popular demand had thousands of visitors over the course of a year.
Ben is a regular photographic and editorial contributor to clients as diverse as BBC Wildlife, Practical Photography, Outdoor Photography, Photography Monthly, Professional Photographer, Digital Photographer, Digital Camera magazine, Digital SLR User, Birds Illustrated, Birding (USA), Birdwatch, The Grebe (Cheshire Wildlife Trust), Living Edge, Birds (RSPB), The Countryman, Peak District magazine and  Cheshire Life.
Ben has also been made Vice President of Cheshire Wildlife Trust and has appeared on numerous radio and television programs including BBC Countryfile where he starred along side Ellie Harrison, and BBC 1′s Walk On the Wild Side.
In-between taking images for commissions and agencies, Ben runs wildlife photography workshops, using his personal coaching style to inspire others to see Britain's natural landscapes the way he does.
His images are sold world-wide through the following international agencies: Getty Images, RSPB Images, Alamy Images and Nature Picture Library.
Contact details
Tel: +44(0)1625: 877 313   Mobile: 07786 447 950:  E-mail: info@benhallphotography.com

A selection of front covers

A selection of magazine features